Benzophenone synthase (BPS) from mangosteen (Garcinia mangostana) catalyzes the production of benzophenone, which is the precursor of the xanthones. The major xanthone isolated from the fruit pericarp of mangosteen fruit exhibits various biological activities. It has many pharmaceutical activities i.e. antibacterial, antifungal, antiviral, antioxidant, antitumor and anticarcinogenic properties.
Asst. Prof. Dr. Natsajee Nualkaew (Faculty of Pharmaceutical Sciences, Khon Kaen University) has characterized BPS function and found that the BPS mutants generated led to alter enzymatic products compared to the wild type BPS. Therefore, Macromolecular Crystallography (MX) has been further carried out to study the three-dimensional structure of BPS enzyme from fruit pericarps of mangosteen. The overall structure of BPS (PDB entry 7CBF), a member of the plant polyketide synthase superfamily known as type III PKS, is shown in Figure 1A. The active site cavity of BPS generating pocket for specific binding to benzophenone product is illustrated in Figure 1B.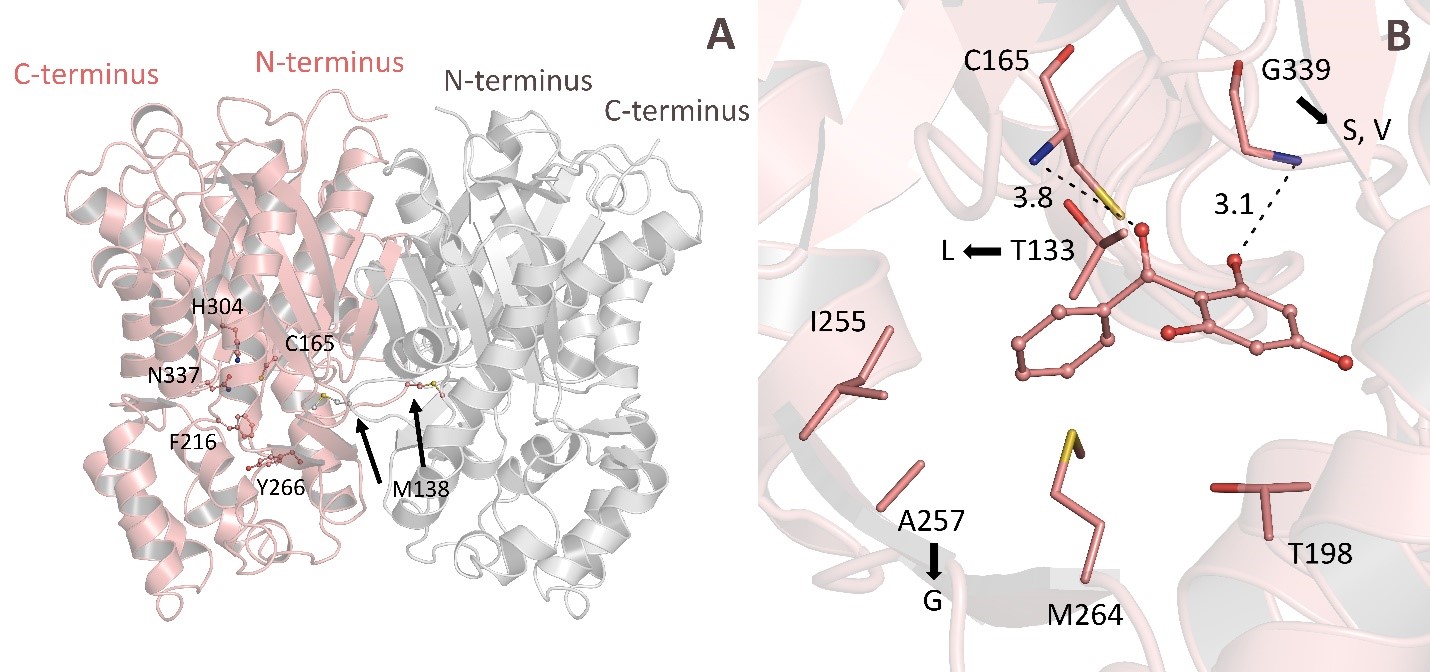 Figure 1 (A) The overall homodimeric structure of GmBPS (PDB entry 7CBF), (B) The active site cavity and amino acid residues contributing to initiation/elongation reaction.
Dr. Chomphunuch Songsiriritthigul (Synchrotron Light Research Institute, SLRI) has reported the detailed structure of GmBPS explaining its catalytic function and facilitating structure-based engineering to alter substrate specificity and obtain desired products. It is a foundation work that provides us the important data for engineering to alter the substrate preferences leading to production of novel compounds and various high-value products.
References
Songsiriritthigul, C., Nualkaew, N., Ketudat-Cairns, J. & Chen, C-J. (2020). Crystal structure of benzophenone synthase from Garcinia mangostana L. pericarps reveals basis for substrate specificity and catalysis. Acta Crystallographica F: Structural Biology Communications. F76, 597-603.

Nualkaew, N., Morita, H., Shimokawa, Y., Kinjo, K., Kushiro, T., De-Eknamkul, W., Ebizuka, Y. & Abe, I. (2012). Benzophenone synthase from

Garcinia mangostana L. pericarps. Phytochemistry, 77, 60-69.

Suksamrarn, S., Suwannapoch, N., Phakhodee, W., Thanuhiranlert, J., Ratananukul,

&

Suksamrarn, A. (2003). Antimycobacterial activity of prenylated xanthones from the fruits of

Garcinia mangostana. Chem. Pharm. Bull. 51, 857–859.
Zhang, K-j., Gu, Qin-l., Yang, K., Ming, X-j.& Wang, J-x. (2017). Anticarcinogenic effects of α-mangostin: a review.

Planta Med

,

83

, 188

–

202

.
Chomphunuch Songsiriritthigul (Synchrotron Light Research Institute (Public Organization), Center for Biomolecular Structure, Function and Application, Suranaree University of Technology, Nakhon Ratchasima, Thailand)
Natsajee Nualkaew (Faculty of Pharmaceutical Sciences, Khon Kaen University, Khon Kaen 40002, Thailand)
James Ketudat-Cairns (School of Chemistry, Institute of Science, Suranaree Univerity of Technology, Nakhon Ratchasima 30000, Thailand, Center for Biomolecular Structure, Function and Application, Suranaree University of Technology, Nakhon Ratchasima, Thailand)
Chun-Jung Chen (Life Science Group, Scientific Research Division, National Synchrotron Radiation Research Center, Hsinchu 30076, Taiwan)