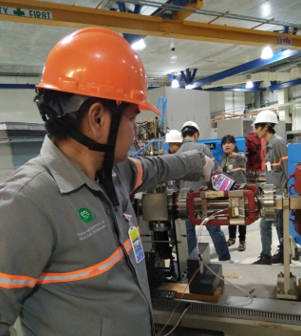 Synchrotron light is produced using a particle accelerator "Synchrotron Light Source", a main infrastructure for science and technology development. The light is applied for in-depth studies of both atomic and molecular structures, and also for solving many scientific problems. Therefore, several users have sent proposals to Synchrotron Light Research Institute (Public Organization), SLRI, to acquire the use of synchrotron light. Radiation safety is then considered by SLRI the first and foremost important issue.
Dr. Pawitra Aimo
Synchrotron Light Research Institute (Public Organization)
The Synchrotron Light Source is a type of particle accelerator capable of releasing electromagnetic longitudinalwaves, from Infrared to X-ray. Therefore, SLRI takes radiation safety into consideration based upon the Radiation Safety Law for the safety of both users and operators. Nuclear Energy for Peace Act, B.E. 2559 is an Act mainly related to this issue which states that those who would like to either possess or use the Synchrotron Light Source are required to ask the Secretary-General of the Office of Atoms for Peace for permission in a form of licenses. To do this, they are required to submit any relevant data and also radiation safety policy in order to guarantee the safety of them and the public.
SLRI has assigned safety officers to provide radiation safety based on the Nuclear Energy for Peace Act., B.E.2559 for SLRI operators and users and provided them with safety trainings. Furthermore, radiation detectors are used to measure radiation level in the areas, both in the air and waste water, to prevent contamination in surroundings. Both SLRI users and operators are also required to have personal health check-up for any possible side-effects from radiation in long-term period. All of these measures have been used to provide them with radiation safety.
SLRI ensures both users and operators of radiation safety by using the As Low As Reasonably Achievable (ALARA) principle which considers both the safely use of radiation and the controlling of radiation level people are exposed to based on the International Commission on Radiological Protection (ICRP). Performing this would guarantee their safety in using synchrotron light for Thailand's sustainable development.