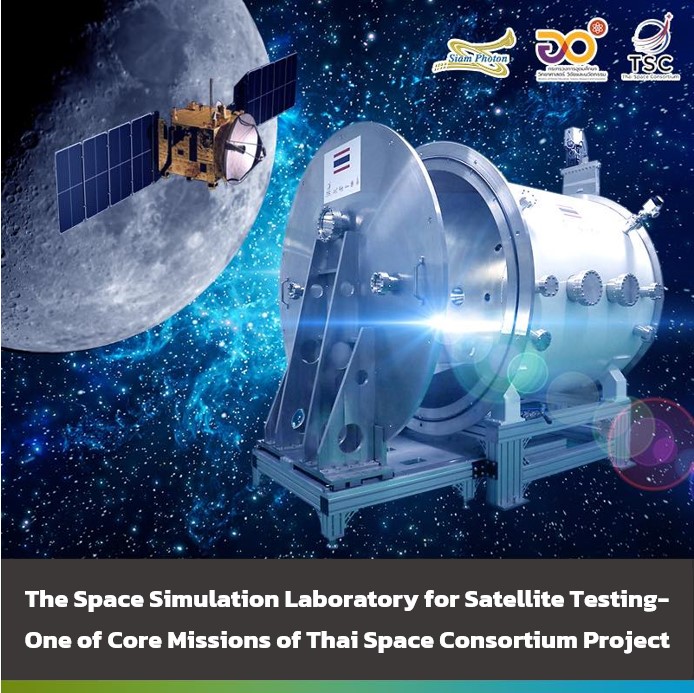 The Thai Space Consortium (TSC) project is a collaborative project among three high-competence organizations in advanced engineering and technology i.e. Synchrotron Light Research Institute (SLRI), Geo-Informatics and Space Technology Development Agency (GISTDA), and National Astronomical Research Institute (NARIT), under the Ministry of Higher Education, Science, Research and Innovation. The project is also joined by over ten potential Thai universities and research institutes.
The TSC project aims to construct and develop small satellites by applying bodies of knowledge and professional skills in various fields own by collaborative organizations, and to stimulate sustainable development of Thailand space industry. In this project, SLRI takes a major responsibility for both infrastructure development of satellite testing system and creation of related components to support the coming satellite development.
SLRI performs a main mission to produce synchrotron light and provide services to users. To produce the light, the ultra-high vacuum technology system is essential in the system. Over a decade of learning with high experiences in related techniques, advanced engineering, and vacuum technology to monitor synchrotron light source effectively, SLRI has proceeded to develop the "Space Simulation Laboratory for Satellite Testing".
The "Space Simulation Laboratory for Satellite Testing" can make ultra-high vacuum conditions at pressures lower than 1.0 x 10-6 Torr within a cylindrical vacuum chamber with 1.5-metre diameter and 1.5-metre length. The chamber is operated by automatic control system and can support testing of satellites with up to 100 kilograms. The liquid nitrogen technology is applied to make temperature conditions at ±150 oC. The laboratory enables users to examine property and durability of materials, components, and tools under various space-like conditions such as vacuum pressure, continued and drastic temperature change, disturbing vibration, signal, etc. and helps preventing related considerable damages before being used in space, defense, and aircraft technologies.
The laboratory is also opened for services to both private and public sectors. SLRI also promotes technology transfer, and human resource development in advanced science and engineering technology to the stated sectors with an aim to create and develop innovations in space technology and other targeted industries which are as economy driving mechanisms of Thailand for prosperous future.