New date for 2nd AWSAXS
The new date for the 2nd ASEAN Workshop on Small Angle X-ray Scattering will be 6-8 March 2012
For any questions or inquiries please send email to This email address is being protected from spambots. You need JavaScript enabled to view it..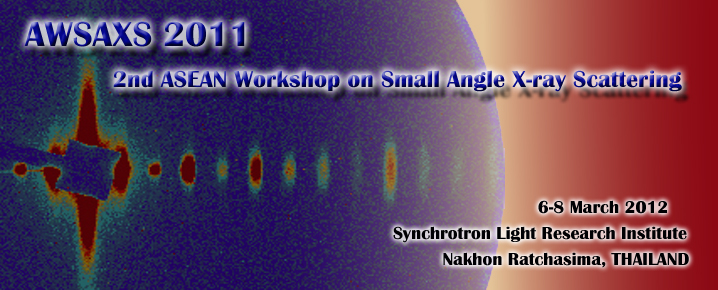 The 2nd ASEAN Workshop on Small Angle X-ray Scattering (AWSAXS 2011) aims to give practical training on Small Angle Scattering (SAS) data analyses to users and potential users of the Small Angle X-ray Scattering (SAXS) beamline at SLRI. In addition to SAS data analysis training, AWSAXS 2011 will also give introduction to theory of SAS and its application, as well as the introduction to the SAXS facility at SLRI. This year, in the hope to initiate collaboration among SAS user community in ASEAN countries AWSAXS 2011 will also give introduction to the Small Angle Neutron Scattering (SANS) facility at BATAN, Indonesia.
The principles of SAS and the data analysis training session will be given by Dr. Joachim Kohlbrecher of the Paul Scherrer Institute, Switzerland. The training will emphasize on practical utilization of the program SASfit (see SASfit page here)  to analyze and interpret SAS data. The training will also provide an advanced session which participants can learn to develop their own plugins to SASfit in order to solve their specific problems with their own SAS data.
The overview of the application of SAXS and Grazing Incident Small Angle X-ray Scattering (GISAXS) will be given by Dr. Tae Joo Shin of the Pohang Accelerator Laboratory, Korea.  The introduction to the SANS facility at BATAN will be given by Dr. Edy Giri Rachman Putra of the Neutron Scattering Laboratory, BATAN, Indonesia.
All scientists and graduate students who are doing research in the fields involving nano structural studies of materials, both from government and private sector, are welcome to participate in AWSAXS 2011. The number of participants are limited to 50. Limited financial supports are available for young scientists and graduate students from ASEAN countries.