Description
Infrared microspectroscopy is widely used for chemical compound identification. Thanks to the high brightness of synchrotron radiation, synchrotron based Infrared microspectroscopy provides high spatial resolution, better signal to noise ratio and shorter data acquisition time than the conventional source.
BL 4.1 IR spectroscopy and Imaging is designed to extract the far- to mid- infrared light (spectral range between 4000-100 cm-1) from the 1.2 GeV Siam Photon Source. This beamline can be divided into 3 branches in order to provide 3 end-stations working simultaneously.
Technical specifications

Photon Energy range

Between 0.01-0.5 eV

Wavelength

2.5-100 microns

Source

Edge and Bending Magnet Radiation

Objective

36X Schwarzschild Objective

20X ATR Objective

Spectrometer/microscope

Vertex 70 spectrometer/Hyperion 2000 microscope

Polarization

Both linearly (bending magnet radiation) and radially polarized (edge radiation)

Beam size at sample

10X10 µm2

Detector

100 micron Narrow band MCT

Mode of measurement

Reflection,

Transmission

Attenuated Total Reflectance (ATR)
Signal-to-Noise Comparison
Infrared spectra on sample collected with 10x10 µm square aperture, the brightness advantage of the synchrotron has significantly improved the signal-to-noise ratio.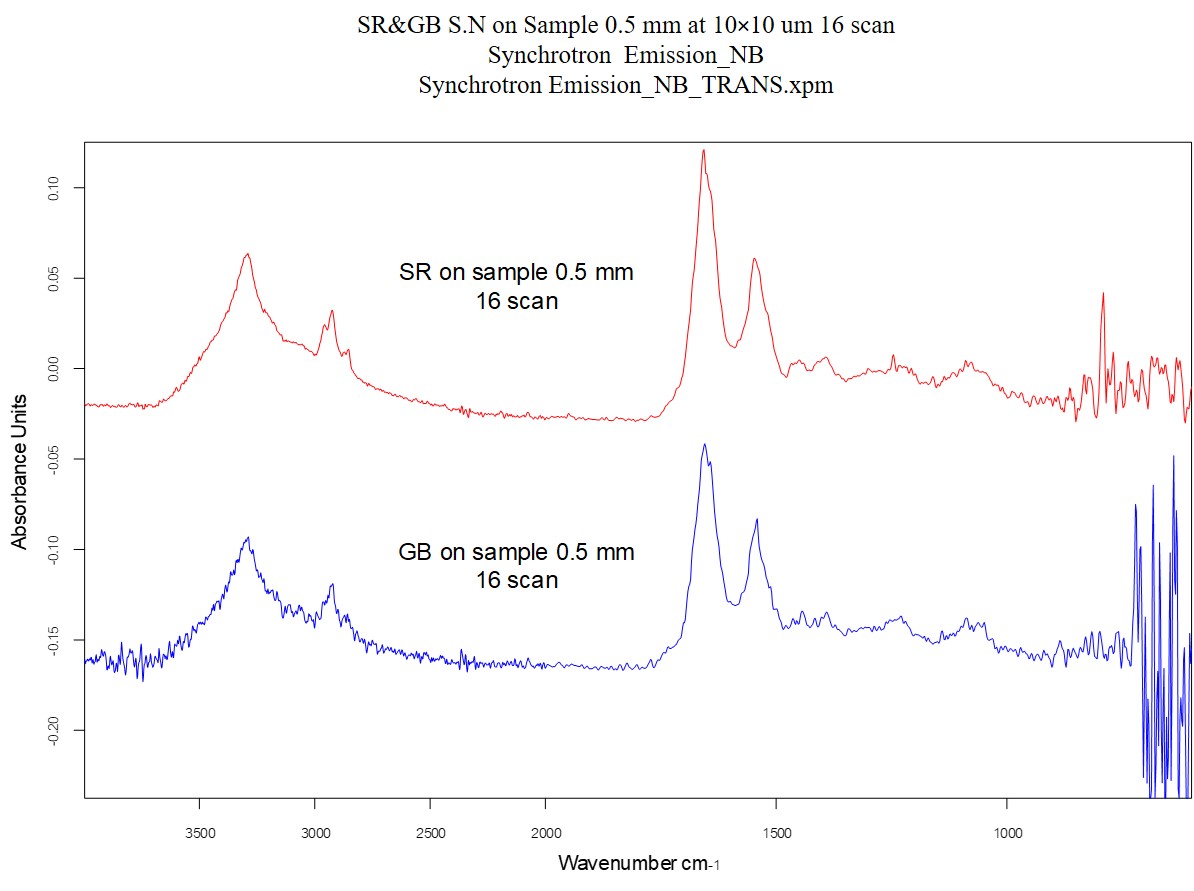 Equipments
Objectives:
Available technique

Research field

36X objective of Transmission

Biomedical science

Food and Agricultural science

Polymer science

36X objective of Reflection

Biomedical science

Food and Agricultural science

Polymer science

36X objective of Transmission & Diamond avil cells

Contamination

Material science

36X objective of Transmission & Vis polarized

Biomedical science

Material science

ATR 20X

Biomedical science

Environmental science

Polymer science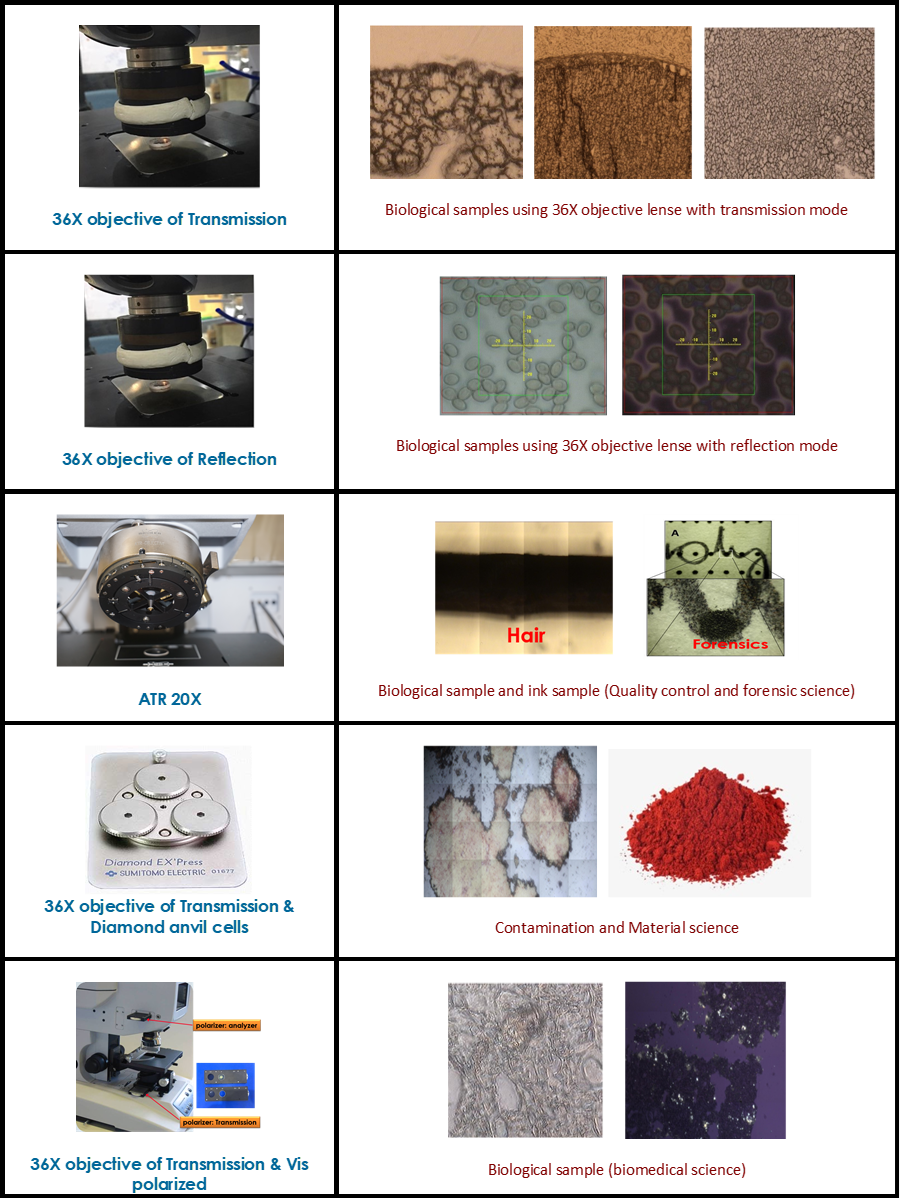 Sample preparation and requirement
SR-FTIR Sample Techniques - transmission
Excellent quality spectra can be obtained for many types of samples using transmission mode of experiment. The transmission technique can be used combine with 36X microscopes to analyze:
What types of samples can you analyze?
Biological sample/Tissue
The transmission mode requires for the spectra acquisition and careful preparation of the samples. For biological samples, cross section is usually recommended. The sample will be embedded in paraffin or OCT (optimum cutting temperature) then microtome or cryostat into thin cross section (Tissue cross section should not more than 7 micron). The sample will be put on window and placed in a desiccator loaded with silica gel for at least 24 hours before analysis. However, paraffin has most intense absorbance features from CH stretching vibration (3000-2800 cm-1) and CH2, CH3 bending (1460 and 1380 cm-1). Therefore, it was usual to remove paraffin from the sample by washing of xylene before FTIR analysis.
Before coming, it is importantly recommended to test the samples with SR-FTIR microspectroscopy. This can enable to check the sample is thickness enough or user can prepare of different thickness for testing.
Bacterial cell
Cell suspensions in media will be washed with normal saline (0.85%) to remove media then will be washed in sterile distilled water 2 times and then deposit into BaF2 window (1-2 µl/drop on window). The samples will be make a smooth layer of the sample in desiccated under vacuum for several hours and stored in desiccators to form films suitable before analysis.
Using Remote Connection via VPN
Using VPN, you can use software (Cytospec, OPUS and The UnscramblerX) to do the data analysis and control a computer from a different computer network.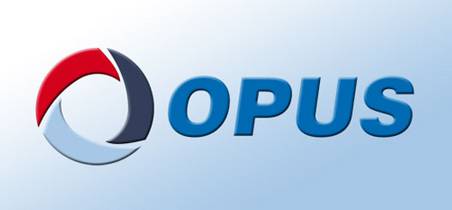 VPN access for user have been approved by the Beamline manager. Completed application forms must be submitted one weeks prior to being granted remote access on network. Please send the complete form to

This email address is being protected from spambots. You need JavaScript enabled to view it.

User can check your booking time via this link:

http://www.slri.or.th/th/index.php/beamline/bl41.html?view=article&id=6014

:booking-calendar-for-using-data-analysis-software-via-vpn&catid=56:bl41-ir
Beam time on this beamline/ How to apply for beam time
If user interested in applying for beam time first step is contact the beamline scientist to discuss the experiment or user office group leader. The next step is to submit a proposal, register as new user or sign in using your username and password. The application for apply the beam time should be including main information following details:
Ø

How the SR-FTIR experiment fit into your overall project.
Ø

Explain the proposed experimental work giving information that will allow to establish the feasibility and outcomes.
Ø

The detailed of sample information and preparation.
Ø

The experimental design or

spectrum acquisition parameters (For example: Spectral range, Number of scans and resolution)
Ø

List the people who will participate in the experiments (1 shift = 8 hours, 3 shifts/day) Service
User will get a small amount of beam time to test the feasibility of new samples.
Proposal submission
Click: http://beamapp.slri.or.th/
BL 4.1 IR staff

Beamline manager

Dr. Kanjana Thumanu, Email :

This email address is being protected from spambots. You need JavaScript enabled to view it.




Beamline scientist

Dr. Buabarn Kuaprasert, Email :

This email address is being protected from spambots. You need JavaScript enabled to view it.

Dr. Siriwan nawong, Email : This email address is being protected from spambots. You need JavaScript enabled to view it.h

Dr. Supatcharee Siriwong, Email : This email address is being protected from spambots. You need JavaScript enabled to view it.


Assistant beamline researcher

Chunmanus Uthaisa , Email : This email address is being protected from spambots. You need JavaScript enabled to view it.

Duangjai Srisamut, Email : This email address is being protected from spambots. You need JavaScript enabled to view it.


Chulalak Chantarakon, Email :

This email address is being protected from spambots. You need JavaScript enabled to view it.
Should you have any technical questions, please do not hesitate to contact us via e-mail or tel: ++66 44 217040 ext 1660-1661
For further information about proposal submission, please contact SLRI User Office, useroffice or ++66 44 217040 ext 1601-1605
Useful link for infrared spectroscopy technique
Infrared beamlines around the world
MirrIR slides: Reflection mode

http://www.kevley.com/

Properties of Select Infrared Transmitting Materials for Transmission Spectroscopy

Handbook of Infrared and UV optical materials
Beamline around the world